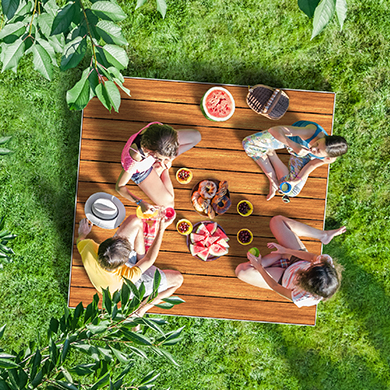 PLATFORM COLLECTION
---
WARM AND FRIENDLY
What is more charming than the age-old tradition of the picnic? Styles may change but the appeal of sharing food with family or friends will never fade. This piece solves some problems of the past: no grass-stained clothing or tots tumbling off the bench!
Break bread at ground level. Have a down-to-earth discussion. The simple, functional design of PICNIC puts the focus where it matters: on people spending time together.
You can expand and rearrange the social or professional possibilities of PICNIC by combining it with components of the HOUSE and PLANTER BOX collections. Make the most of your landscape and urban spaces.
Collection Platform
Dimensions

Length : 1880 mm (74 in)
width : 1765 mm (69,5 in)
Height : 160 mm (6,5 in)
Height from ground : 15 mm (0,5 in)
Weight : 125 kg (275 lbs )

Options – Products codes 

Picnic platform MO-1677-S-FINISH
*FINISH= Recycled plastic (PR), wood IPÉ (IP) or Cumaru (CU)
*Other wood on request

MATERIALS

Structure: Painted aluminium
Floor: Recycled plastic or wood
Hardware: Stainless steel

MAINTENANCE

Structure & floor: Wash with soapy water
No storage is necessary for the PLATFORM collection

COLORS
Range of colours

Other colors available at additional cost

Delivery

From 10 to 12 weeks

Minimum order

2

Warranty

1 (one) year from date of purchase on all materials and manufacturing defects.